Airline industry was severely affected by COVID-19, countries are being quarantined. Most of the flights were cancelled. It is natural that prices for shares of aviation companies have dropped significantly. At the moment the main question is who will be able to return to the market and gain its former power and when? During the lockdown in the spring of 2020 of all Russian passenger aviation companies only Aeroflot was allowed by the Russian government to maintain some of their foreign flights.
Aeroflot is the biggest Russian aviation company which in 2020 celebrated its 97th birthday, making it one of the oldest airlines in the world, but it operates one of the youngest and most modern fleets. Average age of Aeroflot airline's fleet is 5 years, while global average age of airline's fleet is 12 years. For example, competitor of Aeroflot Emirates owns the fleet with average age of 6.7 years and Lufthansa over 11.9 years. For more than a decade, Aeroflot Group has been consistently refreshing and streamlining its aircraft fleet to improve its operating, environmental and technical efficiency.
In 2019 Aeroflot ranks top 20 global airlines Passenger traffic and once again made it into Top 10 full-service airlines in the world according to a reputable global booking portal eDreams, based on passenger reviews. Aeroflot Group passenger traffic structure includes premium class Aeroflot (61,3%), Regional and Charter Rossiya (19%), Low Cost Pobeda (17%) and Regional Far-East Aurora (2,7%).
Company Aeroflot is a market leader in Russia in passenger traffic with its hight security level and high class of the pilots. Trying to satisfy their clients Aeroflot continues to develop its loyalty programme Aeroflot Bonus, reducing the amount of miles required to purchase an award ticket and to upgrade travel class. Aeroflot Bonus programme was once again voted the winner in two categories at the 2019 Freddie Awards: Best Customer Service and Best Elite Program. Besides that, Aeroflot is expanding onboard internet programme and varied its high-quality in-flight catering. Thereby since 2013, Aeroflot's domestic market share has grown from 30% up to 41%, gradually displacing its Russian and foreign competitors.
In 2019 the program Aeroflot Bonus included 9.8 million of members. It is the biggest loyalty programme in Russia and Eastern Europe. But Aeroflot is still far to be the leader in the Global market Loyalty program Miles & More of Lufthansa Group accounted over 20 million of members and Emirates Skywards the loyalty programme for Emirates joint with Flydubai accounted 24 million members.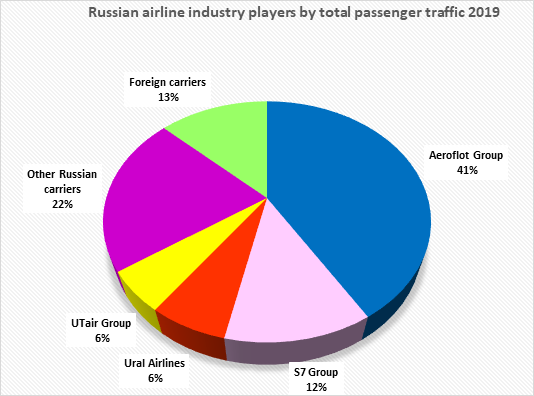 resource Aeroflot
The main shareholder of the company is the Russian government with 57,34%. The fact that Aeroflot is predominantly a state-owned company has its advantages and disadvantages. The advantages include the fact that it is a strategically important company for the government and no matter what happens at the market, the government will save it investing in it and issuing loans on favourable terms. Also, the main company of the country should have the prestige of the country itself through which technological power is demonstrated. Another significant advantage is what of all Russian companies only Aeroflot receives "Airline agreements revenue" (which means the payment for using Russian territory sky by foreign airplanes). "Airline agreements revenue" in 2019 amounted to 568 million euros*, which is 6% of the total revenue of Aeroflot for the year, that amounted to 9.5 billion euros*.
One of the disadvantages is flat fare programme. As a governmental company Aeroflot has to use flat fare programme which means fixed low prices for economy class tickets to cities in the Far East, Kaliningrad and Simferopol. Its social purpose is to provide stable and affordable connections between remote and strategic regions and the central part of European Russia.
Another huge disadvantage is that Russian government force Aeroflot to buy expensive to maintain Sukhoi Superjet 100, because the airplane became uncompetitive in the foreign marked because of sanction imposed by EU and OFAC against Russian aircraft construction companies.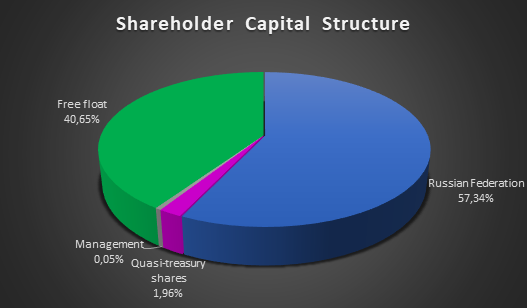 resource Aeroflot
Government influence is also observed in the Board of Directors of the company. Vitaly Saveliev the Chairman of the Board of Directors of Aeroflot is concurrently the Minister of Transport of the Russian Federation.
Sergey Chemezov is a Member of the Board of Directors of Aeroflot and the CEO of Rostec State Corporation (Rostec produces military and non-defence products including civil and military helicopters, aircraft engines, aircraft units, shooting weapons and close combat weapons, short-range missile systems, multiple-launch rocket systems).
Sergey Chemezov is still one of the closest friends of President Vladimir Putin with whom he worked for KGB in the old communist times in the East Germany.
Passenger traffic
In general, before the pandemic global airline industry showed stable growth, with globalization and improvements in the safety and comfort of flights, people are starting to travel more. From 2013 to 2019 Russian passenger traffic grew from 104 million passengers to 147 million passengers and Global from 3,2 billon to 4,5 billons. In 2019, passenger traffic in the world increased by 3.7%, while passenger traffic in Russia increased by 7.6%. The Russian market has good prospects for growth and development. The territory of Russia is quite large, and its geographical position and the opening of new hubs allows the development of transit flights between Europe and Asia. In 2019 Aeroflot reaffirmed its premium status in China after winning the Best China–Europe Transit Airline category at the prestigious Stars Awards again. Every year since 2017 Aeroflot gains 5 stars service company Qatar Airways in this nomination. Aeroflot has indisputable competitive advantages in the Europe-Asia transit segment and offers flights up to three hours shorter than peers on these routes. Before the pandemic Aeroflot planned to increase its international transit traffic from 5 million passengers in 2017 to 10-15 million in 2023.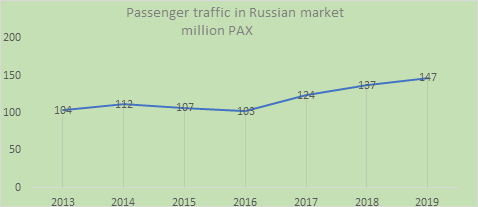 resource Aeroflot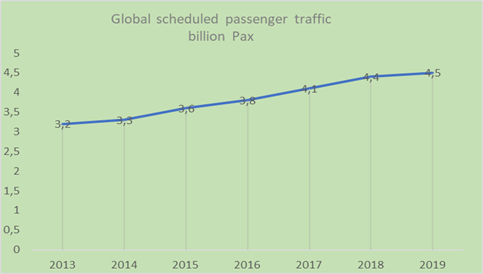 resource Aeroflot
Both inside and outside of Russia, Aeroflot Increasing its flight routes. since 2013 when Aeroflot carried 31 million passengers to 2019 when it already carried 61 million. For example, in 2019 the growth of the Passenger traffic was 9% if comparing Aeroflot with its industry competitors such as Lufthansa and Emirates. Lufthansa posted 2% growth of the Passenger traffic in 2019 and Emirates only 0,2%. Aeroflot has already overtaken the Emirates in terms of passenger traffic, which amounted to 61 million people, against 59 million people transported by the Emirates in 2019, but six years ago in 2013 Aeroflot with 31 million passengers carried was far from Emirates which carried 39 million passengers. Lufthansa still shows the best results from 105 million of passengers in 2013 to 145 million in 2019, but as we can see the growth rate is lower than Aeroflot has.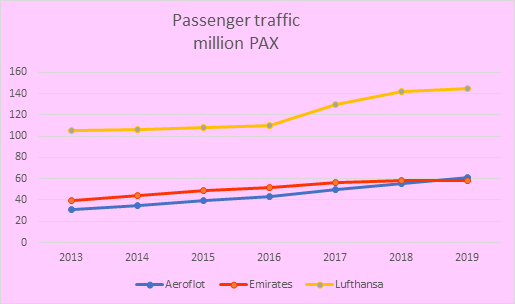 resource Aeroflot, Emirates, Lufthansa reports
Many experts believe that the most effective method for assessing the profitability of a company in the aviation industry is such an indicator as Return on invested capital (ROIC)
If we compare aviation with other industries, airlines revenue growth is on the top, but return on invested capital is one of the worst.
According to research by the international consulting company McKinsey & Company, for the decade from 2005 to 2015 Aeroflot ranked among the leaders in terms of capital investment efficiency. Aeroflot became one of the world's airlines that managed to cover the cost of invested capital over a ten-year period.
If we consider more recent indicators of ROIC, Aeroflot continues to be attractive compared to many, even large competitors.
If we calculate the ROIC according to the companies' reports, then in the period from 2013 to 2018, the average ROIC of Aeroflot was 18%, whereas of Lufthansa and the Emirates it was 15% and 8%, respectively.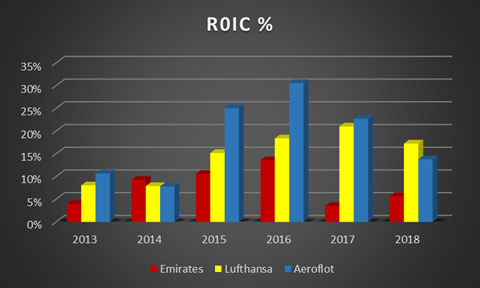 resource Aeroflot, Emirates, Lufthansa reports
Before the pandemic, Aeroflot showed stable revenue growth in roubles, but in some of the periods euro currency exchange rate grew faster than Aeroflot's revenue in roubles.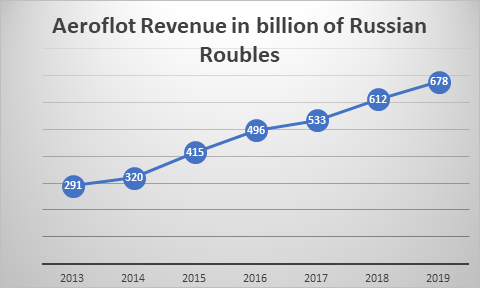 resource Aeroflot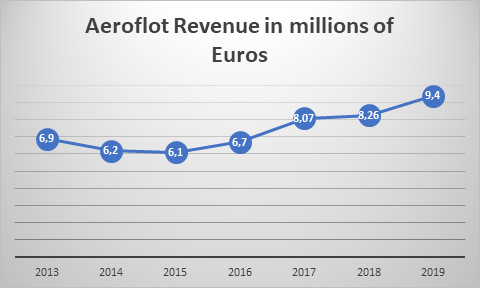 resource Aeroflot
Despite the growing of the revenue and passenger traffic over the years, the industry continues to be very costly, because of high fuel price, rental, purchase and maintenance of airplanes, relatively high salaries for flight crews, airport duties and other expenses.
For example, in 2018, Aeroflot's revenue amounted to 8,3 billion euros*. Operating cost in the same year amounted to 8 billion euros*. Consequently, operating cost accounted for about 96% of the company's revenue.
For comparison in the same 2018, Lufthansa's revenue amounted to 35,8 billion euros and its operating cost 33 billion euros from which it follows that operating cost accounted for about 92% of the company's revenue.
And Emirates Group revenue amounted to 21,7 billion euros*. operating cost 21 billion euros* and operating cost accounted for about 97% of the company's revenue.
Another Important fact is that Aeroflot and its competitors almost don't have their own Equity, which makes them depending on their clients, loans and borrowings.
Continuing to look at the same 2018, Aeroflot's Equity amounted to only 613 million euros , with the company's operating costs of 8 billion euros it is clear that the company operates mainly on borrowed money.
The same situation with Lufthansa with Equity of 9,6 billion euros and operating costs amounted to 33 billion euros.
Emirates' Equity is 8,8 billion euros*, the operating cost of the company amount to 21 billion euros*
In billions of euros 2018*
| Company | Revenue | operating cost | Equity |
| --- | --- | --- | --- |
| Aeroflot | 8,3 | 8 | 0,613 |
| Lufthansa | 35,8 | 33 | 9,6 |
| Emirates | 21,7 | 21 | 8,8 |
Following to look at the reports of 2018 and compare financial strength of Aeroflot with its peers. Aeroflot net debt in 2018 totalled 912 million euros*, with EBITDA 454 million euros* consequently Net debt/EBITDA ratio was 2, Lufthansa shows better result with Net debt 9,1 euros, EBITDA 5 billion euros and consequently Net debt/EBITDA ratio 1,8. Emirates looks worse with Net debt 7,3 billion euros*, EBITDA 3 billion euros* and consequently Net debt/EBITDA ratio 2,4.
In billions of euros 2018*
| Company | Net debt | EBITDA | Net debt/EBITDA ratio |
| --- | --- | --- | --- |
| Aeroflot | 0,912 | 0,45 | 2 |
| Lufthansa | 9,1 | 5 | 1,8 |
| Emirates | 7,3 | 3 | 2,4 |
Logistics
If we talk about logistics, then before the pandemic Aeroflot didn´t pay sufficiently attention on it, Aeroflot was mostly oriented to the passenger traffic. Cargo transportation accounts for only less than 3% of its revenue, while Lufthansa and the Emirates accounted 7% and 14% respectively.
In 2019 Aeroflot covered only 25,4% of the Russian air cargo market. The leader is Volga-Dnepr Group which is directly dedicates to the logistic service and covers 44,8% of the Russian cargo market.
Dividends
Another important thing is dividends. Aeroflot pays quite generous dividends. The policy currently provides for a target payment of 25% of the Group's net profit, but in 2016, 2017, 2018 Aeroflot paid 50% of the Group's net profit. Lufthansa in 2016,2017,2018 paid 13%, 16%, 18% respectively of the Group's net profit and Emirates in the same years paid 29% ,0% and 36% of its net profit.
Impact of the pandemic
If we consider what happened with Aeroflot in 2020, then, like all companies in this industry, Aeroflot suffered significant losses due to the pandemic. In 9 months till October 2020, Aeroflot Group carried 23.1 million passengers, down 50.7% then the last year at the same period. Aeroflot Group's revenue decreased by 55.3% then the last year, while operating costs decreased by 37.1%, primarily due to a reducing in operational volumes as well as due to the implementation of measures aimed at reducing fixed and quasi-fixed costs and clearly due to less fuel use and drop in the fuel prices.
To somehow compensate its losses Aeroflot improved its logistic. In 9 months, Cargo revenue rose by 25.9%. The Company reoriented some of its wide-body aircraft to carry cargo and mail in the baggage compartment as well as in the cabin.
Aeroflot also had to take unpleasant for its shareholders measures as additional issue of the shares. The number of shares almost doubled, thereby reducing the share of investors by almost 2 times.
But thanks to the additional issue the company raised 889 million euros* to improve its liquidity position. Part of the shares was bought by the state, which increased its share from 51% to 57%.
As of 30 September of 2020, in these 9 months losses of Aeroflot Group totalled 882 million euros , which does not look so bad considering the attraction of 889 million euros by the additional share issue.
Summing up Advantages and of Disadvantages of Aeroflot:
 Advantages

Rapidly growing and developing domestic market
Lack of real competitors in the domestic market
State support
Good dividends
Airline agreements revenue
Attractive loyalty program
Convenient geographic location for transit between Europe and Asia
Good service on board
One of the youngest and most modern fleets
Disadvantages
Lack of Equity (depends on clients and loans and borrowings)
High operating costs in the industry
Industry depending on unstable fuel price
The need to implement state social programs
unstable rouble exchange rate
*currency exchange rate average at the mentioned period.