Summary
Gazprom is a Russian energy company with a current market cap of $109.2 Billion. In my opinion this company could be interesting because of 1) its strategic position as an energy provider to Western Europe, Turkey, and China, 2) the size and long-term visibility of its energy fields, and 3) its financial strength.
Introduction
Gazprom is one of the world's largest gas and oil companies in terms of reserves, production, and market capitalization. Gazprom was founded in 1993 when Soviet Gazprom Gas Concern was reorganized into Russian JSC Gazprom and later into PJSC Gazprom. Gazprom accounted over 480.000 employees. The major shareholder of PJSC Gazprom is the Russian Federation which holds more than 50% of its stake (including direct and indirect ownership).
Gazprom Group is the absolute leader by gas sales in Russia. The fact that Gazprom Group is a majority owned by the Russian Government imposes to the company an important national objective of expanding gas infrastructure across Russia, providing gas to Russian citizens at the price fixed by the Government, with Former Soviet Union countries also enjoying a special discount. As of January 1st, 2020, the gas penetration rate in Russia reached 70%. In the Russia's Unified Energy System Gazprom has a 16% market share.
Gazprom operates in more than 20 countries, and its products are supplied to more than 100 markets around the world.
On the graph below, we can see the difference in the price of gas within Russia, the price for Former Soviet Union countries and the price for Europe and other countries. The graph is presented in Russian rubles per thousand cubic meters of gas on a quarterly basis from Q1 2016 to Q3 2021.
The black line indicates almost unchanging price on the domestic Russian Market, blue the price for Former Soviet Union countries, and red for Europe and other countries.
Source: time atlant signals
A major part of its revenue Gazprom receives in foreign currency (euros and dollars), which makes its less depending on the unstable rouble exchange rate and makes it more attractive for investing.
Its investor base comprises several thousand institutional investors, including major foreign investors, such as investment funds, pension funds, banks, and insurance companies, as well as private investors. Investors based in the United States, the UK, and mainland Europe remain the largest minority holders of Gazprom shares.
The revenue structure of Gazprom is the following :
56% gas business transportation and other
37% crude oil and gas condensate, refined products
7% electricity and heat
Revenue of the Gas sales :
74% Europe and other countries,
19% Russian Federation
7% Former Soviet Union (excluding Russian Federation).
Gas reserves
Gazprom has the world's largest reserves of natural gas and is the world's leading gas producer. According to petroleum consulting company DeGolyer and MacNaughton, Gazprom Group's proved and probable reserves as of December 31st, 2019, were 24,395.5 bcm which is about 70% of Russian reserves and 16% of global natural gas reserves. In terms of the gas reserves the competitors of Gazprom Russian NOVATEK and Rosneft, American ExxonMobil Corporation and Chinese PetroChina are far away from Gazprom.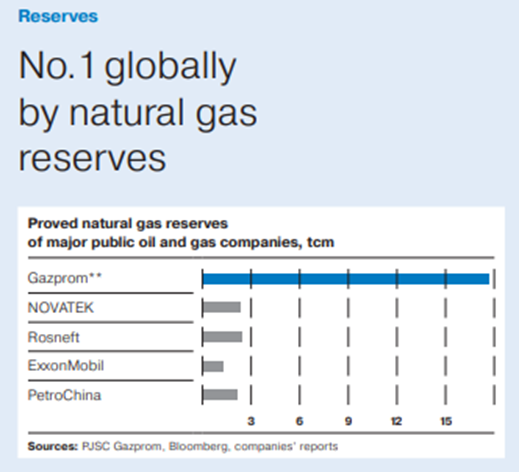 Source: Gazprom
Production
Gazprom is leading in the global gas production as well. In 2019, Gazprom significantly increased the production of gas in situated in Russian Siberia Yamal gas hub. Because of Yamal megaproject. In 2019 Gazprom Group produced over 500 bcm of gas, the highest level for the last eight years.
Gazprom actively develops its gas production Yamal hub. Yamal's gas reserves are equivalent to over 100 years of production by Gazprom, which during the next 100 years would supply to its Russian and international consumers. Gazprom is far ahead of its competitors in gas production such as British petroleum (BP), ExxonMobil, PetroChina and British-Netherlands Royal Dutch Shell.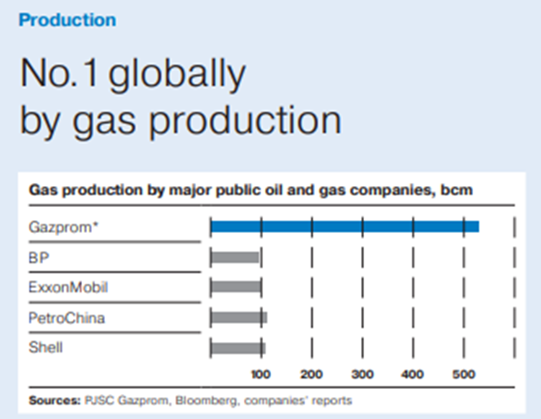 Source: Gazprom
Export
The favourable geographical position of Russia between Europe and Asia opens good opportunities for gas exports. Gazprom has a 35.5 % share in gas sales to European countries. Gazprom's export supplies exceed those of Norwegian Equinor, Qatar Petroleum and Algerian Sonatrach.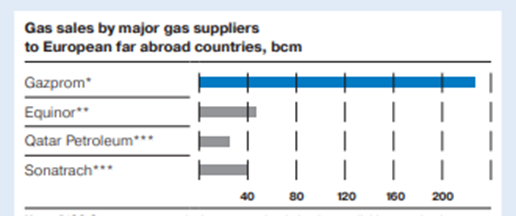 Source: Gazprom
Gazprom Group is a key supplier of natural gas to European countries. Group's gas exports are mostly sold to the UK, Germany, Italy, the Netherlands and Turkey. in 2019 Gazprom exported to European countries 199 bcm. It is one of the best results in the Company's history.
Source: Gazprom
European demand
In August 2021, the last visit before her resignation of German Chancellor Angela Merkel to Russia took place. One of the key themes was Nord Stream 2. Gazprom's megaproject for direct gas supply to Germany bypassing Ukraine along the bottom of the Baltic Sea. According to German Chancellor Angela Merkel only after 2045 Germany could lose the need for Russian gas.
In the same August Gazprom updated its forecast of the average price of a portfolio of long-term gas contracts, supplied by the company to European countries. With prices increased by 30% due to the cold winter, the storage facilities in Europe were empty. Russian gas is still very important for Europe, and it is very difficult to replace it with anything else.
In the course of 2021, a rebound in economic activity, the weather factor, and volatility of renewables have led to a rise in gas demand and production across the world.
Over the first nine months of 2021 Europe boosted its imports by 20.4%. It should be noted that Gazprom's share in Europe's total imports of pipeline and liquefied natural gas during these nine months exceeded 53%.
Gazprom has a good opportunity for future contracts in Europe. Own production in European countries decreased by 16.2 bcm, or 6.4%, more than 45% of this volume came from Norway and almost 30% from the Netherlands.
With the low spot price environment in 2019, the largest European producers cut down their supplies, Norway undertook lengthy repairs and cut its supplies by 6.9 bcm, or 5.3% year-on-year.
Great Britain and the Netherlands also continued their production cuts. Due to more frequent earthquakes, the Dutch government repeatedly capped production at the Groningen field according to the reports, continuous production there will be halted by as early as mid-2022. This decision will have a significant effect on the European gas balance, with declining production to be substituted by imports.
As we can see the natural gas production decline in Europe continued, but natural gas consumption increased.
Gas consumption in power generation went up by 6.7 bcm, or 4%, The main contribution to increased natural gas consumption was from reduced nuclear, coal-fired, and hydro power generation. The economics of gas-fired generation was influenced by high carbon permit prices and low gas hub prices, supporting its competitiveness compared to the coal-fired generation.
Source: Gazprom
According to forecasts, Europe is expected to demonstrate milder growth of gas consumption. However, the programmes by a number of European countries to decommission coal-fired and nuclear power plants, and the need to meet emissions reduction targets for 2040 will support the interest to use natural gas in various industries. Despite the weak demand growth, Europe is expected to remain one of the key natural gas import regions due to own production decline. Gradual increase in Liquefied natural gas (LNG) in the import mix is expected, but pipeline gas will continue to dominate in the European market.
Source: Gazprom
Increase in demand for gas and its growing competitive advantage compared to other fuels create the conditions for strengthening Gazprom's leadership as the largest gas exporter in the global energy market.
After a sharp increase in 2018, the EU carbon permit prices stabilised at the level of EUR 22–26 per tonne of CO2, but in 2020 the price has already risen to EUR 32 per tonne and further growth is predicted. Analysts at Morgan Stanley have raised their forecast for the cost of carbon quota for 2025 to 76 euros from 44 euros per tonne. Thus, experts expect prices to more than double by the middle of the next decade. EU climate program will have serious implications for the cost of quotas. Higher prices of quotas of CO2 make coal-fired generation less attractive, which, in turn, leads to increased utilisation of gas-fired capacity.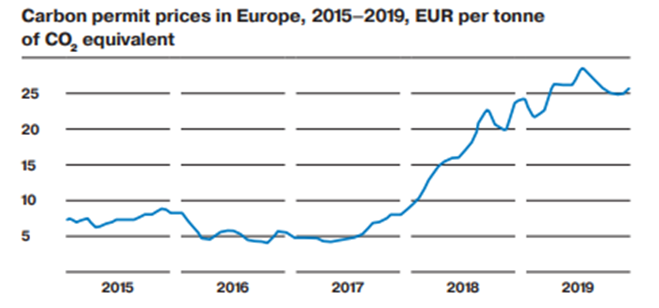 Source: Gazprom
Gazprom Group companies own the gas transportation systems in Belarus (Gazprom Belarus), Armenia (Gazprom Armenia) and Kyrgyzstan (Gazprom Kyrgyzstan), ensuring supplies of natural gas to consumers in these countries. The trunk gas pipelines owned and operated by Gazprom Belarus, the Group's core gas transportation asset outside Russia, also carry transit supplies of Russian natural gas to European countries and Russia's Kaliningrad Region. Daily requests by Gazprom to transport Russian natural gas through Belarus are satisfied in full. What cannot be said about transit through Ukraine, due to constant conflicts with Ukraine, Gazprom has to look for ways to sell gas to Europe bypassing Ukraine, for which Gazprom invests heavily in such projects as TurkStream and Nord Stream 2.
Turkey and TurkStream
Gas conflicts between Russia and Ukraine prompted Gazprom and the Ministry of Energy of the Russian Federation to look for alternative ways to export gas to the European Union.
On January, 2020 was launched TurkStream which directly connects the largest gas reserves in Russia to the Turkish gas transportation network across the Black Sea, providing Gas to Turkey, South and Southeast Europe and in one year on January 1, 2021, was launched the Balkan Stream, which is a continuation of the TurkStream, for Bulgaria and Serbia.
The project has an annual design throughput capacity of 31.5 bcm.
Source: www.turkstream.info
More growth opportunities: Nord Stream 2
The aim of Nord Stream 2 is direct connection of the gas reserves in Russia to the German gas transportation network across the Baltic Sea. The construction was predicted to be finished by the end of 2019, however, the process of the construction was partly blocked because of the US sanctions. Americans are afraid that the new pipe will expand the Kremlin's influence and fear growing dependence on Russian energy and that Russia leaves Ukraine without transit fees from an existing land pipeline. On December 21, Trump imposed sanctions against Nord Stream 2. The document said that restrictive measures could be introduced against companies involved in the construction of the gas pipeline and for this reason German, Swiss and Norwegian companies left the project.
Nord Stream 2 would allow Germany to effectively double the amount of gas it imports from Russia. For example In 2017, Germany used 53 bcm of Russian gas, which is about 40% of Germany's total gas consumption.
On January 20, the inauguration of President Joe Biden took place in the United States, who wants to improve relations with Europe. The Trump administration's Nord Stream 2 policies worsened US relations with Germany, and president Biden hopes to fix that.
But US president Joe Biden was in a difficult situation due to new sanctions against the Nord Stream 2 gas pipeline, on the one hand, the presidential administration wanted to prevent the completion of the project, and on the other hand, it does not want to spoil relations with Germany, which is in favor of completing the construction. And good news for Gazprom came from The Biden administration in May 2021 The Biden administration waived the sanctions imposed on the corporate entity overseeing the construction of Russia's Nord Stream 2 pipeline into Germany.This decision indicated the Biden administration is not willing to compromise its relationship with Germany over this pipeline.
The construction of Nord Stream2 was finally finished in Septerber 2021 and it is going to be launched at the end of 2021 or the beginning of 2022.
Source: Euronews
Chinese demand
Global economy growth stimulates energy consumption. Global primary energy consumption is estimated to have grown by 2.5% to over 14.5 bn toe in 2019. According to base case forecasts, global energy consumption is expected to grow steadily and may increase by 20% by 2040. Two thirds of this growth will come from Asia. The biggest driver of long-term global energy consumption growth will be the rise of developing Asian economies and the resulting steady energy demand increase. However, this growth could be held back by energy efficiency measures adopted mostly by developed countries in Europe and North America. This strong energy demand will make Asia the world's largest energy importer: by 2040 the region's import of oil could increase by a third, coal — by more than 50%, natural gas — by 2.5 times from 2019.
Source: Gazprom
Source: Gazprom
Chinese companies responding to growing gas consumption both actively ramp-up own production and increase gas imports. According to China's official data, the country's gas consumption was 307 bcm in 2019, up 9.4% (almost 27 bcm) year-on-year. The significant increase of consumption was attributable to higher demand from the industry, power generation and utilities, as well as to the national government's continued policy of growing the share of natural gas in the country's energy mix.
An important gas demand growth driver for China will be the government policy towards a cleaner environment. China's domestic gas production growth will not be sufficient to satisfy the growing demand for gas. It is therefore expected that China will increase gas imports in the long-term, both by pipeline and as LNG.
Import already plays an important role in meeting China's gas demand. According to preliminary estimates, China imported over 133 bcm in 2019, up 8 bcm year-on-year. LNG is an important part of China's gas imports. It is expected, however, that as Russian gas exports through the Power of Siberia pipeline ramp up after it started supplying gas at the end of 2019, the share of pipeline imports in China's market will grow.
Power of Siberia was launched on 2 December 2019, started the first-ever Russian pipeline gas supplies to China. Gazprom will supply over 1 tcm of gas over the next 30 years to China via Power of Siberia. Power of Siberia is the largest gas transportation system in eastern Russia designed to supply gas from the Irkutsk and Yakutia gas production hubs to Russian consumers in the Far East and to China.
Source: Gastopowerjournal
Chinese market looks very interesting for Gazprom, but Gazprom doesn´t open the price for the gas sales to China. Many experts believe that the price is really discounted, but Power of Siberia shows to Europe that Gazprom has another markets and it is not fully depending only on its European clients.
One of factors which shows the future growth of the gas consumption is the global population growth, leading to higher gas consumption in the industry, utilities, and power generation sectors.
World human population in billions.

Source: Bankstoday
Another Interesting question is if renewable energy could be a real competitor for the Gas industry.
For the ecological reason renewable energy (solar, wind) became popular, but it is still very expensive for being a real competitor for the gas industry.
However, In the global market gas and renewable energy both continue to enjoy growth in consumption. But for example, in Russian Energetic market Renewable energy is only 1%.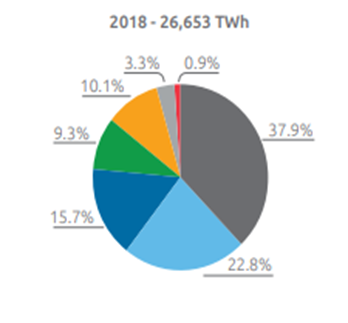 Source: BloombergNEF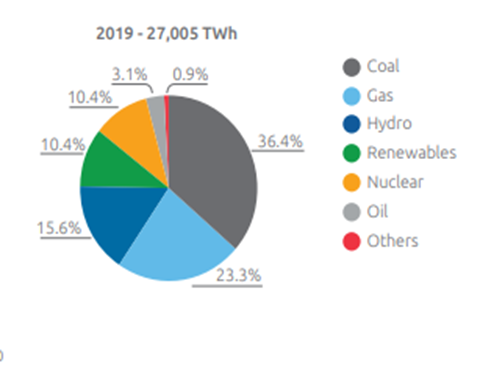 Source: BloombergNEF
Financial indicators
According to the Gazprom reports from 2014 to 2019, the Company demonstrates rather stable financial position and growing of the net profit from 4 billion of US dollars in 2014 to 19 billion of US dollars in 2019. But in 2020 sales volumes decreased year-on-year primarily due to lower crude oil sales to Europe and other countries due to lower demand during the COVID-19 pandemic Net profit amounted only to 2 billion of US dollars. Nevertheless, the recovery of oil and gas markets and positive outlook for demand give a very positive forecast for Gazprom.
Source: Gazprom
Gazprom claims that for its comfortable financial stability net debt / EBITDA ratio level shouldn´t be over 2.5, which is reflected in its dividend policy as well.
Due to the financial results, the net debt / EBITDA ratio from 2014 to 2019 was at a comfortable level for the Group and comparing Gazprom with its peers in the industry we can see that its peers such as Repsol and British Petroleum didn´t maintain this comfortable level in the same period.

Source: Gazprom, Repsol, BP, PetroChina
In the first half of 2020 due to the Pandemic effect Gaz price fell, but despite this pandemic effect and its own dividend policy Gazprom took a decision to pay out dividends in the amount of 50% of its net profit and broke the comfortable net debt / EBITDA ratio.
The net debt / EBITDA ratio at the end of 2020 was 2.6.
According to forecasts of the top Management of Gazprom, the ratio of net debt / EBITDA in 2021 will be equal to 1.2. and taking into account the dynamics of gas prices in Europe in the 4th quarter, EBITDA can be expected to exceed $ 45 billion.
Operating cash flow and Capex
According to Gazprom Group's financial policy, capital expenditures are mostly covered by the operating cash flow. Transportation, Gas Production and Refining segments account for the bulk of the Group's capital expenditures. Last year's high capital expenditures could be explained by the concurrent implementation of several major gas transportation projects, which were described above.
In 2020 Total capital expenditures decreased by 18 %. The amount of capital expenditures of the Transportation of gas segment decreased by 46 %, mainly due to putting the TurkStream gas pipeline into operation in January 2020, completion of most part of works on the construction of the Nord Stream 2 gas pipeline as well as putting the Power of Siberia gas pipeline into operation at the end of 2019.
As per the revised in october 2021 investment program for 2021, the overall amount of investments will stand at 15,8 billion of dollars, which is 3,8 billion of dollars more than was envisaged in the investment program approved in December 2020. Of that amount 13,7 billion of dollars is intended for capital investments, 817 million of dollars for the acquisition of non-current assets, and 1,3 billion of dollars for long-term financial investments.
The adjustments to the investment program for 2021 are related mainly to increased investments into the top-priority gas transmission and production projects of Gazprom.
As per the draft investment program for 2022, the amount of investments to be used will total 23,4 billion of dollars, including 19 billion of dollars planned for capital investments.
Gazprom's investment program for 2022 includes financing for top-priority projects, including further development of the new gas production centers (Yamal, Yakutia, and Irkutsk) and the Power of Siberia gas trunkline.
Source: Gazprom
Also, we can see quite good stable for the industry Return on Equity of Gazprom of the past years.
Source: Gazprom, Repsol, BP, ExxonMobil reports

In 2020 the p/e multiplier amounted to 37.6 and according to my forecast for the end of 2021 and 2022 7.5 and 7.7 respectively p/e multiplier are expected
Dividends
During the last years Gazprom has been paying out dividends with a stable level. Dividends Payment of 2019 amounted to 30% of the Group's net profit. The new Dividend Policy provides for increase of the lowest dividend pay-out ratio to 50% from the end of 2021, but on condition that Net Debt/EBITDA ratio is not over 2,5 for maintain financial stability of the company.
In 2020 After all adjustments Gazprom reported net profit of 2 billion dollars. But for showing strong commitment to the Dividend Policy even under stressful market conditions Gazprom decided to pay out 50% of net profit after adjustments, which amounted 8 billion of dollars.
The Management Committee of Gazprom endorsed the proposal to allocate a portion of Gazprom's undistributed profits from the previous years for the dividend pay-out. The dividends made about 4 billion of dollars, or 0.17 dollars per share. This result is worse when dividends paid by the result of the year 2019 which amounted about 0.21 dollars per share, but better than dividends paid by the result of 2017 which amounted 0.13 dollars per share.
According to forecasts of the Gazprom Management by the result of 2021, dividends over 0.48 dollars per share are expected.
Source: Gazprom
Source: Gazprom
Natural Gas Price
Gas price fell sharply in the first half of 2020 due to the pandemic effect. but in the second half of the year, including due to the cold winter in Europe and the gradual recovery after the lockdown, gas prices grew up again. The current price of natural gas as of November 30, 2021, is $4.52.
According to analysts' forecasts, gas prices are expected to rise further with the economic recovery after the pandemic.
Natural Gas Prices - Historical Chart

Source:
macrotrends.net
In my opinion Gazprom will continue to occupy a strong position due to high hydrocarbon prices, the nearest launch of Nord Stream 2, European depending on Russian gas and the weather factor: according to preliminary forecasts, a cold winter in Europe is expected again.
video análisis en español: Gazprom - YouTube